We are the best Twin Lobe Roots Blowers Manufacturer / Exporter / Suppliers in India
Twin Lobe Roots Blowers India / Twin Lobe Roots Blowers Gujarat / Twin Lobe Roots Blowers Ahmedabad
In order to fulfill the rigorous demand of 100% oil free air and a transported gas, free of any contamination, Garuda Pumps comes with tried & tested volumetric principle based twin lobe roots blowers, competent to generate proportional volume to the speed of rotation. This twin lobe roots blowers is also famed as "Roots blowers", based on the name of its inventors, operate on differential pressure and constant volume characteristics. This twin lobe roots blower belongs to the positive displacement blowers, encloses a pair of lobes/rotors turn inside an oval shaped casing, closed at ends by side plates, in which one love is driven by the eternal power, whereas the driven lobe is driven by a pair of equal ration gears. These both lobes rotate at the same velocity, but in reverse directions, during air is drawn into the inlet side of the cylinder and forced out of the outlet side against the system pressure. Four such volumes are displaced, on the completion of each rotation of the lobe.
The entire operation is oil free and without compression as, the forced out air is not allowed to come back due to the petite internal clearance within the internals of the machine, excluding a mere amount. Moreover, there is no change in the volume of the air within the machine; however, it merely displaces the air from the suction end to the discharge end, in opposite the discharge system resistance. The effectiveness of this twin lobe roots blower is the result of our inspection, testing and attention to the smallest aspect in different operation stage.
We have an extensive range of this twin lobe roots blower, which finds its application in chemical processing plants, textile plants, cement plants and ceramic industry.
Each Twin Lobe Roots Blower Featuring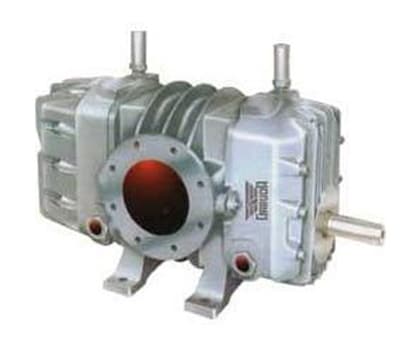 Performance Data For GXA Air Cooled Series
MODEL

SPEED (in RPM)

MAX

POWER

(H.P.)

CAPACITY (M3 / Hr.)

GXA-10

1196 – 40000

16

65 – 330

GXA-20
965 – 3800
24
90 – 530
GXA-14
965 – 3800
33
140 – 730
GXA-16
850 – 3220
44
 195 – 960
GXA-19
820 – 2900
57
305 – 1330
GXA-22
765 – 2415
79
495 – 1835
GXA-26
725 – 2035
107
770 – 2455
GXA-30
570 – 1840
160
975 – 3635
GXA-36
600 – 1635
2485
1893 – 5655
GXA-42
600 – 1400
320
3095 – 7505
GXA-50
510 – 1200
450
4395 – 11000
Over the years, our company has carved a strong niche for itself in India as well as overseas for providing comprehensive range of precision-engineered Twin lobe roots blower within promised time. Consumers can avail our entire range of the Twin lobe roots blower by contacting us @ +91-79-22145748 or +91-79-40083755 & 58.